Unbreakable Kimmy Schmidt season one review
Hash brown no filter
Netflix and the minds behind "30 Rock" have teamed up to deliver a streaming series in the same vein as the popular NBC show. Tina Fey and Robert Carlock present a fish-out-of-water story with just enough of a unique play on the concept to make "Unbreakable Kimmy Schmidt" the next successful, clever sitcom in pop culture. Ellie Kemper stars as titular character Kimmy Schmidt, a woman on the edge of 30 that emerges from an underground bunker with three other women after fifteen years of lies and abuse in a cult.
The series jumps right into the action as a skilled task force rescues Kimmy and her "sisters" from the bunker belonging to cult leader Reverend Richard Wayne Gary Wayne. News media dubs them the "mole women of Indiana" and before she can blink, Kimmy finds herself instantly free and the subject of tabloid scrutiny. One of the reverend's neighbors' comments on news television and, courtesy The Gregory Brothers, becomes an auto-tune YouTube sensation—serving as the show's unforgettable, humorous opening credits music. When the "mole women" wrap-up their feature on "Good Morning America" with host Matt Lauer (playing himself), Kimmy decides to clean the slate and start life anew in the Big Apple. Carlock and Fey are most comfortable with the NYC setting, and "Unbreakable Kimmy Schmidt" follows that trend.




Kemper's Kimmy has the naïveté, enthusiasm, and optimism that the actress brought to her roles on "The Office," Bridesmaids, and 21 Jump Street. The show simply wouldn't work with any other actress in the role. The rhythms and character type associated with Kemper's brand of humor make Kimmy Schmidt as truly unbreakable as the title suggests. Nothing can keep her in the dumps: living in a cult bunker for 15 years, working for a delusional Manhattanite, moving in with a roommate who can't contribute to the rent, adjusting to societal dating norms after being removed from it for over a decade, helping a friend from deportation, etc. Kimmy adjusting out of the nineties and into her thirties features the show's funniest theme and strength.
The limited supporting cast also shines. Broadway performer and "30 Rock" guest star Tituss Burgess plays Kimmy's flamboyant, penniless, yet supportive roommate, Titus Andremenon—an obvious stage name for the struggling actor. Burgess' timing mixed with Kemper's naïve rhythms typically create an uproarious situation, but UKS kicks it up another notch when a third character joins the scene. Usually that third character arrives in the form of one of the cast's two iconic comediennes: Carol Kane and Jane Krakowski. Kane plays Kimmy and Titus' landlord, an outspoken liberal straight out of the Summer of Love with more than a few shocking flashbacks. Krakowski takes more than a few traits from Jenna Maroney as Jacqueline, a delusional Manhattanite and Native American runaway who hires Kimmy to work in her house.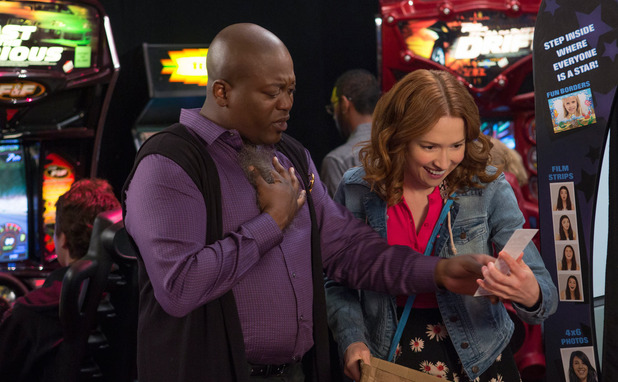 "Unbreakable Kimmy Schmidt" managed to get some high-profile cameo appearances, as well, for its inaugural season. In addition to writing, Tina Fey also lends her acting talents later in the season as one half of the lawyer team tasked with putting Jon Hamm's Reverend Richard Wayne Gary Wayne behind bars. In addition to Fey and Hamm, other guests include Martin Short, Dean Norris, Tim Blake Nelson, Kiernan Shipka, Mark Harelik, and Jerry Minor.
The show's weakness is a lack of supporting cast members. The core cast consists of only four characters (one being Kimmy), and the story really only follows two characters. "Seinfeld" was limited to four cast members, but managed to balance all four. Today's sitcom casts consist of 5-7 characters with a solid balance in plot delegation. Add the fact that UKS is about five minutes longer than the average sitcom due to its Netflix production and you have a sitcom that follows Kimmy for two thirds of the show and Titus for the other third. Krakowski and Kane really only operate to bring out the best in Kimmy. A cast dynamic only sparks during the scenes with the mole women either working together or against each other. There's nothing along the lines of an "It's Always Sunny in Philadelphia" gang, or friend group like "Friends," "How I Met Your Mother," "The Big Bang Theory," "Community," or workplace associations like "The Office," and "30 Rock." Simply put, Kimmy Schmidt could use more funny friends—she's kind, popular, and has a weird enough background to attract any manner of kooks.




The refreshing angle of the newest Netflix series is the focus on demographics that don't normally take priority. Imagine watching "30 Rock" without a white male presence and you have "Unbreakable Kimmy Schmidt," a sitcom that isn't afraid to create a strong female atmosphere with appealing, universal humor. Kemper provides a lead performance necessary to make the show a success while the supporting cast shines around her. It's a legitimate treat that Tina Fey continues contributing comedy to the television-viewing crowd after the end of "30 Rock" with another clever, quotable, well-written sitcom containing vivid characters. Netflix certainly did their homework and knows what the people want.


Keywords:
Unbreakable Kimmy Schmidt, review, Netflix, Ellie Kemper, Tituss Burgess, Tina Fey, Jane Krakowski, Carol Kane