South Park Season 18, Episode 5 recap & review
The Magic Bush
"South Park" stepped its game up from the last episode this week with "The Magic Bush." Like "Handicar," the newest episode focused on a twosome—but it worked much better this time. A Cartman-Butters duo rarely misses its comedic mark and this week was yet another solid entry in the relationship between the manipulator and manipulated. Butters' father had a prominent role for the second week in a row. It seems as if Trey Parker decided to flesh out Stephen Stotch's character in recent years, trading in the one-note joke of an in-the-closet family man to a more "everyman" version of Randy Marsh. Stephen's developed into an adult male character who isn't as quite as much of a dingbat as Stan's dad. Several jokes worked this week as Parker's ability to weave so many current events into one plot shined through yet again, but perhaps too many references got in the way of what could have been a funnier episode? Indeed Cartman and Butters crack up the viewer at each opportunity with nods to Ferguson, drones, Celebgate, but the Stephen Stotch plot never hit the same level of laughs as he bizarrely turns into a John Rambo-type by episode's end.




The episode begins with Eric Cartman barging into Butters' bedroom, burdening him with his boredom. Butters casually mentions his father's new drone hobby, and before he can make sense of what happened, his fat friend has roped him into yet another controversial alliance, not unlike those in "The China Probrem," "Poor & Stupid," and "Super Fun Time." That evening, Cartman invites Kenny into their secret (because who doesn't want to party that guy?) and three boys fly the drone around their mountain town and begin spying on Craig's mom in a moment of undress. Their good time is quickly foiled as Craig's dad sees the flying drone and immediately takes it up with Butters' dad, Stephen—the only man in South Park, Colorado, with a drone. He's the only possible suspect… because Butters couldn't do it without adult supervision could he?

Stephen's paranoia grows and grows as suspicions mount. How could his drone possibly have flown without him? A neighborhood watch drone gets put into use. Unfortunately it's Randy's use and his perversions (think Celebgate) turn into a Ferguson-Fappening fiasco when a South Park police drone puts down an unarmed black drone. Drones then get declared definitely legal as the parents/ adults of the town spend their evenings enjoying wine and monitoring each other. Meanwhile, Stephen's suspicions spiral out of control, causing Butters' guilt to mount. Cartman, of course, gleefully accepts the opportunity to assist Butters, but each idea Eric pitches involves a hilariously selfish caveat of himself operating the drone yet again as ten-year-olds are wan to do.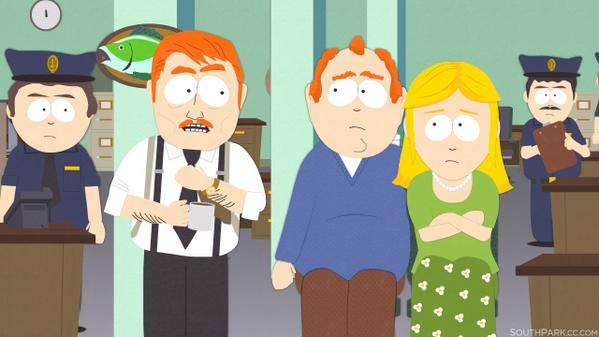 Parker's program hit a higher stride this week with "The Magic Bush." Although still not hitting the notes of "Go Fund Yourself," "South Park" turned up the humor following the lackluster "Handicar." While the clever weaving of Ferguson (it was only a matter of time Parker addressed this issue, especially after "World War Zimmerman" last year) Celebgate/ Fappening, drones, too many references get in the way of the jokes. Checking in with Stephen just didn't get any funnier, unlike Butters and Cartman.


Keywords:
South Park, The Magic Bush, Cartman, Butters, Stephen Stotch, Ferguson, Celebgate, Fappening, Drones