Mad Men 711 recap/ review
Time & Life
"Mad Men" spoilers below.
The heavy hitters at SC heard some more game-changing news this week. Like "Severance," the action of "Time & Life" took place primarily in the office (save for a glimpse into Pete's personal 1970s experience), so the characters from Don's home life like Betty, Sally, Bobby, Gene, Henry, and Megan don't appear. We open on Pete Campbell and Ken Cosgrove sitting in a restaurant. Cosgrove toys with Pete's strings, making his former rival squirm to keep Dow Chemical. Don shows up and settles a marketing dispute to Ken's approval, upsetting Pete. We then jump to Don's empty apartment. He sits on a stair, talking to a woman from his message service. Diana called Don several times, but the messages she left for him are gone without a way to contact her. The next day back at the office, Roger finds a disturbing notice in his mail. He sends Caroline to get Dawn Chambers because it's a matter of the lease. Roger continues standing, working himself up, and shouts for Joan from behind his desk. He wants Joan to fire Dawn, but Joan insists on handling it. The camera returns to Don, sharing an elevator ride with several mothers and their children. Deeper in the office, Pete's ex-wife Trudy (Alison Brie) calls Pete to inform him that their daughter hasn't gained admission to his family's generational private school. Both parents, however divorced, decide to unite in order to give their daughter the best education possible. Joan, Caroline, Dawn, and Roger's new second secretary enter Roger's office. Roger half-seriously fires them all, but Joan explains that somebody at McCann-Erickson gave notice, but Dawn insists that none of them were informed. Roger retracts his claws, suggesting it must be a mistake.
Peggy and Stan try to get a test group of children to play with the PlayDoh sitting on a table before them. Peggy tries and fails to get the children to comply as she struggles communicating with them on their level. Stan suggests she lighten up and immediately connects with them, inciting a little fun. Back at the office, Roger asks Ferg Donnelly about the lease over a phone conversation. Ferg says that SC will operate out of McCann-Erickson at the end of the month, insisting this is good news. However, it only sounds like they're getting dissolved. The camera stays with Roger as he barges into Don's office as Don types behind a typewriter. The other partners follow him in and close the door to allow Roger to announce that McCann plans to move them. Pete leaves and sees a young girl hugging Peggy. What could have been? He asks her into his office so he can warn her about moving to McCann before they officially announce it. Joan calls her new man to inform him of her bad news. He decides to fly to New York in order to lift her spirits. Meredith enters Don's office and Don has her cancel all of his appointments before Lou Avery calls from Los Angeles to quit. A Tokyo-based animation company picked up his cartoon. Don thinks he knew about the McCann move weeks ago, and Lou instead talked about something completely out of left field.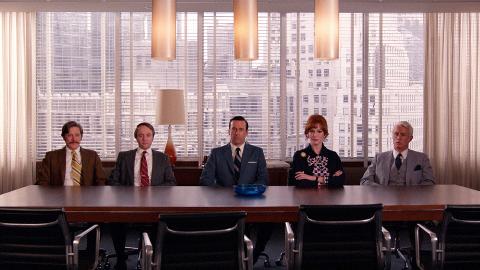 Don calls a meeting of the partners in the conference room and pitches them on an idea to continue operating out of their L.A. branch. The other partners seem to take to this, Ted notwithstanding. "You think we can secure three accounts in 24 hours?" Pete asks. Don suggests they've done it before. Peggy meets privately with a hiring agent who suggests her best bet is staying with McCann-Erickson after the move. Ken meets with Pete and Roger as they try to convince him to stay with them as they move to L.A, but Ken lets them know that Dow is moving on regardless of their separation from McCann. Ted and Don sit at the office, late at night, when Ted apologizes to Don for taking the West Coast position a while back, saying it was always Don's job. Ted doesn't want to leave NYC now that he's rekindled an old flame. The next day, Pete and Trudy meet with the headmaster of their daughter's potential school. They jaw about why the young girl couldn't get in, but the truth comes out in the end when the headmaster reveals he'd never admit a Campbell due to a family feud from hundreds of years ago before America was even really established as a country. Pete pops him in the nose before they leave. At the office, Peggy and Stan come across a little girl from the previous auditions, left at SC by her mother. We cut back to Trudy and Pete, entering the home they used to share. They talk a little and seem to agree and continue to support each other despite the divorce. Pete borrows her phone as the camera jumps back to the office where he intercepts the other partners on the way out the door. He managed to keep Secor Laxatives. "Was it difficult to move?" Don asks. Pete replies with, "All I had to do was not make that joke."
As the partners leave, the camera stays in the office and focuses on the little girl whom Stan and Peggy met. Peggy lets the news about McCann slip to Stan right before the girl staples her thumb. Her mother arrives and yells at Peggy and Stan for letting it happen. Peggy suggests the woman was a bad mother for abandoning her daughter in midtown NYC. The five partners meet with McCann and Don opens with an optimistic presentation about keeping their operations open in L.A. before he's interrupted and the partners are informed that they've "passed the test" and will graduate to the big leagues: Buick, Ortho Pharm, Nabisco, and Coca Cola. They're encouraged to take the day off and pop champagne. We catch up with the partners toasting to Bert Cooper at a bar after they've had a few beers. They've hardly felt like celebrating. In a cab ride, Pete and Joan talk about the future. Joan feels left out and maintains suspicions of McCann, rightfully so. Late at the office, Peggy can't concentrate. She keeps thinking about the mother from earlier and ends up divulging a lot to Stan, telling him that she put a baby up for adoption several years ago. Fans recall her tryst with Pete in the first season. She wants to put the regret behind her and live the rest of her life "just like a man does."


At the bar, only Don and Roger remain, drunk and smoking. Roger reflects on his family legacy and reveals that he's seeing Marie, Don's ex-mother-in-law. "She's crazy, you know?" Don warns. However, Roger points out that Don warned him against marrying his secretary, but ended up doing the exact same thing with Megan. Don surrenders for the second time that day. Roger kisses Don's cheek and exits. We stay with Don as he knocks on Diana's apartment. A man answers and Don assumes Diana found a new man. However, the man who answers has a male companion and is clearly gay. He explains they're new in the apartment and that Diana left her furniture. Don excuses himself, not sure what to make of the news. Back at the office, Meredith overhears chatter and freaks out at Don about the McCann rumors. He offers to let her come with him in his new job. Stan calls Peggy to find out what her decision is—she's going to McCann. She invites him to join her. In the open office, the partners announce they're moving to McCann-Erickson, but the office doesn't buy it. The people's clamor drowns out the partners' announcement and chaos quickly takes over the atmosphere. Their future remains uncertain. This wasn't like the PPL move in the third season where somebody like Lane could swoop in, fire them, and hit reset. (By the way, former "Mad Men" cast member Jared Harris directed "Time & Life.") They sold out to McCann-Erickson and now their contracts have come back to bite them where it hurts. With a four-year deal and a non-compete clause, how will Don Draper solve the agency's latest tribulation? A few characters like Peggy and Ted already indicated that they intend to stay as the future remains uncertain for those suspicious of McCann's intentions.


Keywords:
Mad Men, recap, review, Time & Life, AMC, Don Draper, Jon Hamm