Difficult People series premiere review
Hulu's best original show
From executive producer Amy Poehler ("Parks and Recreation," "The Mighty B!"), comes an edgy, fearless, brand new comedy series available to stream on Hulu. "Difficult People" stars Poehler's "Parks and Recreation" co-star Billy Eichner and Julie Klausner ("Ugly Americans," "Mulaney") as two misanthropic, spiteful New Yorkers in their 30s. Both leads keep their first names for their "Difficult" characters. They each want to break into comedy, but unfortunately they bide time working as a waiter and TV reviewer, respectively, until that fateful day arrives.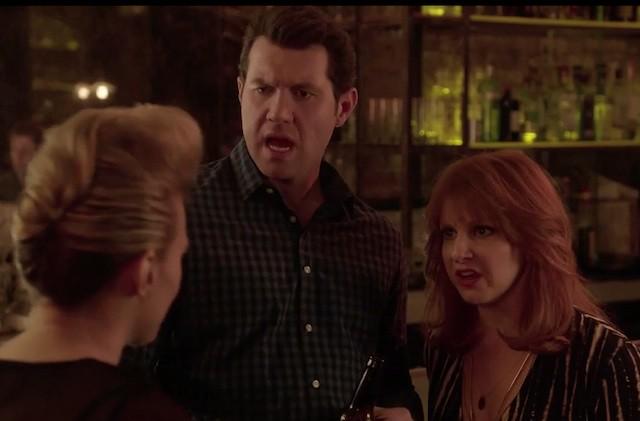 "Difficult People" should quickly get a following simply because nothing is sacred here, like so many other popular, yet controversial programs like "South Park" or "Curb Your Enthusiasm." These characters aren't afraid to assert themselves in awkward or unpleasant social situation. We root for them not because they're crude, but for their spine—never backing down from a confrontation that may end unfavorably for them. For example, one scene depicts them cursing while in the crowd for a stage production of "Annie" as a mother in the row ahead of them asks them to filter their language. Simply put, Julie and Billy won't be told what to do because they always view themselves as the victim to a hilariously, ignorant, self-destructive fault. This show just wouldn't work if they let others figuratively step on them.

The new Hulu series also has an even flow throughout. We never hit any serious notes like sitcoms "How I Met Your Mother," "Will & Grace," or even "Community" at times. "Difficult People" sticks in the vein of "Seinfeld" and "It's Always Sunny in Philadelphia" due to its focus on pure comedy at the expense of jerks and cynics. Even the ending of the pilot has a distinctively earned feeling because the jokes throughout the plot lead up to the final, well-deserved punch-line when concerns about a controversial tweet mentioning R. Kelly and Blue Ivy lead all the way up to an embarrassing moment on the public sidewalk. Yes, this is one of those shows you watch with close friends because you'd normally be worried about others judging you for laughing at such audacious material.


A few established celebrities pop in: comedy heavyweight Martin Short, SCTV alum Andrea Martin, Oscar-nominee Gabourey Sidibe (Precious), and SNL alum Rachel Dratch. "Difficult People" never relies on these big-name appearances for laughs—leaving the bulk of comedy to its talented leads despite their lack of a household name. Martin probably gets the most room to develop a character, playing series regular "Marilyn"—an awful hypnotist, yet supportive mother to Julie.

Like Netflix, Amazon, and many other streaming services, Hulu wants to produce original programming to attract new members. After Netflix's "Unbreakable Kimmy Schmidt" and Amazon's "Mozart in the Jungle," Hulu now enters the acclaimed comedy discussion with "Difficult People"—a comedy unafraid to say what many think, but none say. Hopefully, viewers will get to hear what Billy and Julie are thinking for a few more seasons as these leads' careers will undoubtedly branch off to bigger and brighter projects with the success of their new streaming show.


Keywords:
difficult people, review, hulu, billy eichner, julie klausner, andrea martin, amy poehler, comedy, new york, streaming