Better Call Saul episode 3 recap and review
Nacho
As this is a recap, SPOILERS appear below for "Better Call Saul" and "Breaking Bad."
Showrunners Gilligan and Gould again skip the post-"Breaking Bad" Saul "Gene" Goodman in this week's episode of "Better Call Saul" and choose to open the episode with a moment from deep in Jimmy McGill's past. Before he arrived in Albuquerque and his older brother locked himself away, Jimmy found himself dressed in orange awaiting serious charges (including, but not limited to, registering as a sex offender) in a Cook County prison outside of Chicago, Illinois. Chuck, looking much healthier and far more successful, arrives at the prison to serve as his brother's legal counsel after flying out of New Mexico. Director Terry McDonough crafted the scene with excellence—Jimmy was desperate for Chuck's legal expertise, not unlike Chuck's current predicament where he's dependant on Jimmy to deliver all groceries and other necessities. Even before he practiced law, Jimmy's motor mouth just never quit with explanations and excuses. It isn't until Jimmy admits to Chuck that he's in serious of help in order to escape these serious charges—it will be the "end" of his life—that his older brother agrees to represent him. The seeds of Jimmy practicing law in New Mexico get planted here. The opener was Michael McKean's only scene as Chuck this week and he relished in the chance to take his character to another place outside of a dark house.
The rest of the program takes place in the primary 2006 plot. Jimmy calls an old flame from Chuck's office, fellow counselor Kim Wexler (Rhea Seehorn- "Whitney," "Franklin & Bash"), who currently represents the Kettlemans. Jimmy, thoroughly drunk (he's been drinking in all three episodes at different stages in his life, mind you), delivers a winding, meandering warning to her for the Kettlemans' benefit and shortly hangs up on her. Jimmy takes it a step further when he heads out to a pay phone to tip off the Kettlemans not unlike Walter White's tipoff for Hank when the murderous twins from the cartel drew his number in "Breaking Bad." The Kettlemans peer outside their window and see Nacho Varga's van parked across the street.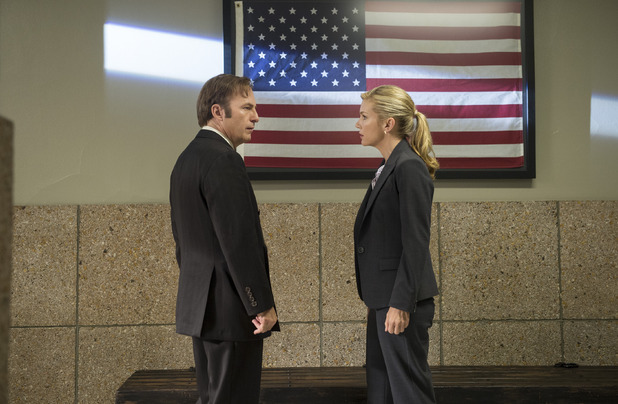 Jimmy begins the next day in court and spends much of his time, like in many episodes, pestering opposing counsel to reduce sentences and allow plea bargains. Kim calls Jimmy and he heads for the Kettlemans home where he learns that the family, both kids included, went missing in the middle of the night. He bails and heads for a series of payphones where he spams Nacho's phone lines. Jimmy believes Nacho acted on the plan he described at the end of "Mijo," and wants to find out where the family is. After a few hours, law enforcement converges on the payphones. Jimmy, thinking Nacho implicated him already, takes off on foot before officers quickly subdue the lawyer and inform that he has been detained as Nacho's counsel because Nacho has been arrested on suspicion of nabbing the Kettleman family. Down at the station, Nacho admits to Jimmy that he camped outside the Kettlemans' house the night before in order to learn their routine, but that he didn't nab them. The neighbors wrote Nacho's license plate number and were able to contact the proper authorities. Nacho blames Jimmy for talking and his current predicament. He then tasks his lawyer to proving his innocence quickly because the law is poking around his business and may tie him into Tuco's drug business. After the cops dismiss Jimmy, he convinces Kim to take him to the Kettlemans' home.
Jimmy gets suspicious upon arriving at the crime scene and notices peculiarities. He suggests to Kim that Kettlemans bailed on their own volition after he privately admits to her that he tipped them off the night before about Nacho. When he arrives back the courthouse, Mike Ehrmantraut stands guard. Jimmy let himself through the gates the last time and Mike tells him to find another place to park which sparks a kerfuffle. Mike pins Jimmy without effort in the classic arm-breaking technique. Subsequently, the investigating officers on Nacho's case try to use Mike as a means to manipulate Jimmy into giving away the position of the Kettleman family. Keep in mind, the police still think Nacho has the family hidden somewhere. Mike gets cold feet and lets Jimmy walk. This awakens something in the lawyer that causes him to follow the man who would be his personal investigator out the door. They begin speaking about the Kettleman case when Mike suggests that the family still hides nearby based on a case he had as a Philadelphia detective.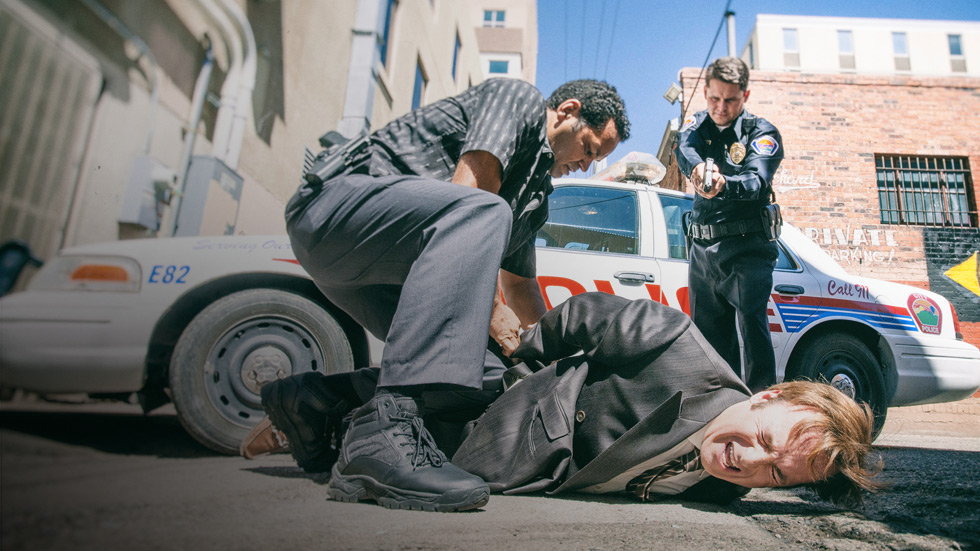 Mike's words resonate with Jimmy as he goes the ultimate mile for Nacho in the final scene. He pulls up in front of the Kettleman home and finds an unlocked fence door in their backyard. He follows their backyard into a forest with a long, winding trail. As the sun fades, Jimmy continues walking for all the damage it does his suit. Finally, he falls upon a glowing tent where Ma and Pa Kettleman lead an energetic rendition of "John Jacob Jingleheimer Schmidt" and are joined by an unenthusiastic choir of their children who just want to go home. Jimmy calls Kim to get the authorities before he pokes his head in the tent to tell the kids it's time to go home. He reaches for a duffle bag which leads to a tug-of-war with Mrs. Kettleman that results in the bag ripping and stacks of bills falling out of it. Two epic cliffhangers in three episodes? Jimmy's hard work in "Nacho" for his client should pay great dividends in next week's BCS, and we can't wait to see what they are. Maybe he can finally afford that round, Constitution office.


Keywords:
Nacho, Better Call Saul, recap, review, Bob Odenkirk, Vince Gilligan, AMC, Rhea Seehorn, Michael McKean