Universal Monsters Reboot Announced
Is the cohesive approach overdone?
Earlier this week, Universal Studios officially announced their plan to reboot the famous monster movies made during Hollywood's Golden Era: Dracula, Frankenstein, etc. Universal also confirmed that these rebooted films will connect, or link together in the same universe. These films won't be sequels, but stand-alone pictures with some connection to the others. How they intend to chain their new franchise hasn't been revealed on record, but rumors point to the character of Abraham van Helsing from Dracula as a supernatural expert/ hunter as a recurring character throughout. Tom Cruise (Edge of Tomorrow, Oblivion) even attached his name to star in a Van Helsing reboot within the last two years, but it appears Cruise has since left the project for other sequels….I mean pursuits (Mission Impossible 5, Jack Reacher 2, and even Top Gun 2).
Producer/ writer Alex Kurtzman (the Transformers and Star Trek franchises) and writer Chris Morgan (the Fast and Furious franchise) were announced as the writers of Universal's newest "re-venture", with Kurtzman's name attached to this endeavor before even Cruise—so long, in fact, that Kurtzman's former writing partner, Bob Orci, had his name attached as well. Orci and Kurtzman split a few months ago (to divide and conquer the blockbuster market, it would seem) with Orci attaching his name to Star Trek 3 and Kurtzman staying on with the rebooted Spider-Man franchise they started in 2012 with The Amazing Spider-Man. After the amicable split, Universal announced Kurtzman to direct the Spider-Man spinoff Venom for 2018 as well as heading up the monster reboot.
While it certainly appears as if Universal hired more-than-qualified men to head their new horror reboots, the question remains why reboot? Money, of course, seems obvious, but every blockbuster is a multi-million dollar gamble. Does Universal truly believe that a monster movie franchise is as profitable as other blockbuster franchises? The studio tried to include several monster properties in 2004 with the Hugh Jackman vehicle Van Helsing. The film turned a profit but not enough to warrant sequels, plus critics panned it across the board. The Monster Squad, although an undeniable cult classic, made less than four million dollars at the box office in 1987. We can adjust these numbers for inflation, but the basis for economics remains and these respective movies still don't have a sequel despite a cult following or a profit.
But you know what Universal monster movie made a relatively recent sequel? 1999's The Mummy. In fact, it received two sequels: The Mummy Returns in 2001 and The Mummy: Tomb of the Dragon Emperor in 2008. All three films cracked $400 million worldwide, but the third film was the obvious disappointment as it was the only film requiring a budget north of $100 million ($145 million) yet made the least profit. One could make the trilogy argument here, but who's going to believe that Universal wouldn't have made a fourth franchise entry if Tomb of the Dragon Emperor's China setting and star Jet Li had translated into more money from the growing Chinese audience. Take a look at Transformers: Age of Extinction—it's the fourth entry in a Universal franchise with a good portion of its setting in China. Michael Bay's alien robot-fest (a franchise once written by Kurtzman and Orci) translated into the highest-grossing film of 2014 as of July 19 and a green-lit fifth installment. That fourth movie only happened because its predecessor made more than $1 billion. Had that third Mummy installment made just a little more money or had the critic love of the first two, perhaps we'd face a fifth or sixth sequel instead of a reboot in 2016. Yes, Universal is rebooting their monster blockbusters with yet one more Mummy movie instead of a less-used property like Frankenstein's monster, Invisible Man, Creature from the Black Lagoon, etc.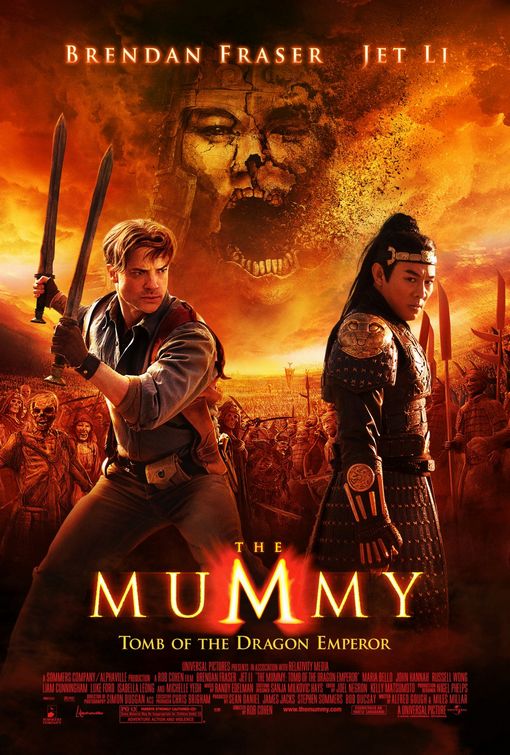 If the upcoming Dracula Untold is any indication, it's that Universal will focus on the action and adventure aspect on their franchise—probably not unlike the Indiana Jones vibe from The Mummy trilogy. The horror element seems to have completely vanished and transformed into a dark-tone. The hiring of Kurtzman and Morgan as writers also points to an action-oriented blockbuster geared toward nerds and teens. So what Universal Studios essentially has under development is a connected series of dark-toned, action movies for teenagers. Sound familiar? Disney-Marvel also has a similar philosophy with their "M.C.U" or Marvel Cinematic Universe with the cohesive likes of Iron Man, Captain America, Thor, and so on and so forth. 20th Century Fox has hinted at crossing over their X-Men and Fantastic Four heroes. Warner Bros.' Justice League looks well-under way with a Harry Potter spin-off to boot. Sony has visions of expanding Spider-Man's web of characters and spin-offs. So why would Universal throw their name in with just another white-noise franchise of cohesive action movies?
It appears to me as if they're merely diluting the market, creating more competition within the action blockbuster genre. If one needs proof, just look at how Spider-Man movies keeping making fewer and fewer dollars at the box office despite the rising cost of ticket prices and the added 3D. Audiences are tired of seeing the same thing, and I guarantee nobody will want to see a different monster get defeated in every movie with predictable first, second, and third acts. That's not a financial risk I'd take.
Instead, Universal ought to embrace the horror element. Horror films, on the whole, cost far less than action-adventure blockbusters. Last year's The Conjuring cornered the horror market on a micro budget. The Purge was an action-horror of sorts and made enough to earn an even-better reviewed sequel for this year. R-rated horror is on the rise and virtually contains the entire demographic of the action-adventure genre plus the date crowd. Embracing the horror element with familiar creatures of Hollywood's past adds a bit of nostalgia and living history to the mix instead of a commercialized, stream-lined franchise fit for an action figure, backpack, or lunchbox. Whatever route Kurtzman and Morgan choose for The Mummy in 2016, they certainly have a long road toward making their franchise ticket price-worthy. I'd rather they not just replace Brendan Fraser, make it darker, and toss in another familiar monster to tease the audience for the sake of itself. Maybe there's a reason Tom Cruise jumped ship.
Keywords:
Universal Studios, Universal Monsters, The Mummy, Alex Kurtzman, Chris Morgan, reboot, blockbuster