The Revenant review
Breathtaking revenge masterpiece
Earlier this year in February, filmmaker Alejandro G. Iñárritu won best achievement in directing at the Academy Awards for his work on Birdman: or (The Unexpected Virtue of Ignorance) mere moments before the film itself won best motion picture of the year. Come 2016, Iñárritu may repeat victories in both categories with his newest film, The Revenant. Based on a true story and adapting Michael Punke's 2002 novel, The Revenant covers frontiersman Hugh Glass's gut-wrenching revenge tribulations. His caretakers abandon him for dead following a bear attack that renders him nearly motionless and don't expect him to survive the ordeal, let alone seek vengeance. Five-time Academy Award-nominee Leonardo DiCaprio returns to movies after a year-long hiatus to star as the betrayed, vengeful Glass in what is one of the most ambitious motion picture achievements since Gravity.




Iñárritu's newest film reminds audiences of other sprawling epics like Apocalyse Now or Once Upon a Time in the West, however, The Revenant stands as a cut above the rest with its implementation of solely natural light. Like Terrence Malick's The New World, Iñárritu's movie looks as if a documentary crew followed a band of fur trappers and mountain men—especially because he sequentially shot the film over nine months across a good portion of Canada. Stories emerged that criticized the director during production of unsafe working conditions due to the extreme cold weather. In fact, co-star Tom Hardy admitted in a recent interview that he still holds some anger for having to drop out of the lucrative starring role in Suicide Squad after The Revenant had to keep shooting past schedule. When viewing the finished product, however, one never notices the struggle it took to make the film thanks largely in part to the mesmerizing combination of cinematographer Emmanuel Lubezki's breathtaking camera work and composer Ryûichi Sakamoto's dramatic score. The Revenant looks real, but still feels like a movie should: suspenseful, intense, and captivating.

Lead actor DiCaprio (The Wolf of Wall Street, The Great Gatsby) follows in the steps of Gangs of New York co-star Daniel Day-Lewis and commits to his role at a dedicated, steadfast echelon. When DDL shot The Last of the Mohicans, the celebrated actor fished, hunted and generally lived off the land for a few months until production ended. In his latest role, DiCaprio accomplished a similar feat. A known vegetarian, the actor ate raw bison liver for one scene as he was deeply in character. "I can name 30 or 40 sequences that were some of the most difficult things I've ever had to do," he said in an interview with Yahoo. "Whether it's going in and out of frozen rivers, or sleeping in animal carcasses, or what I ate on set. [I was] enduring freezing cold and possible hypothermia constantly." His effort appears well-worth it as the actor looks set to finally win his first Academy Award playing Hugh Glass, a man in the 1820s on a timeless—and real—quest for revenge.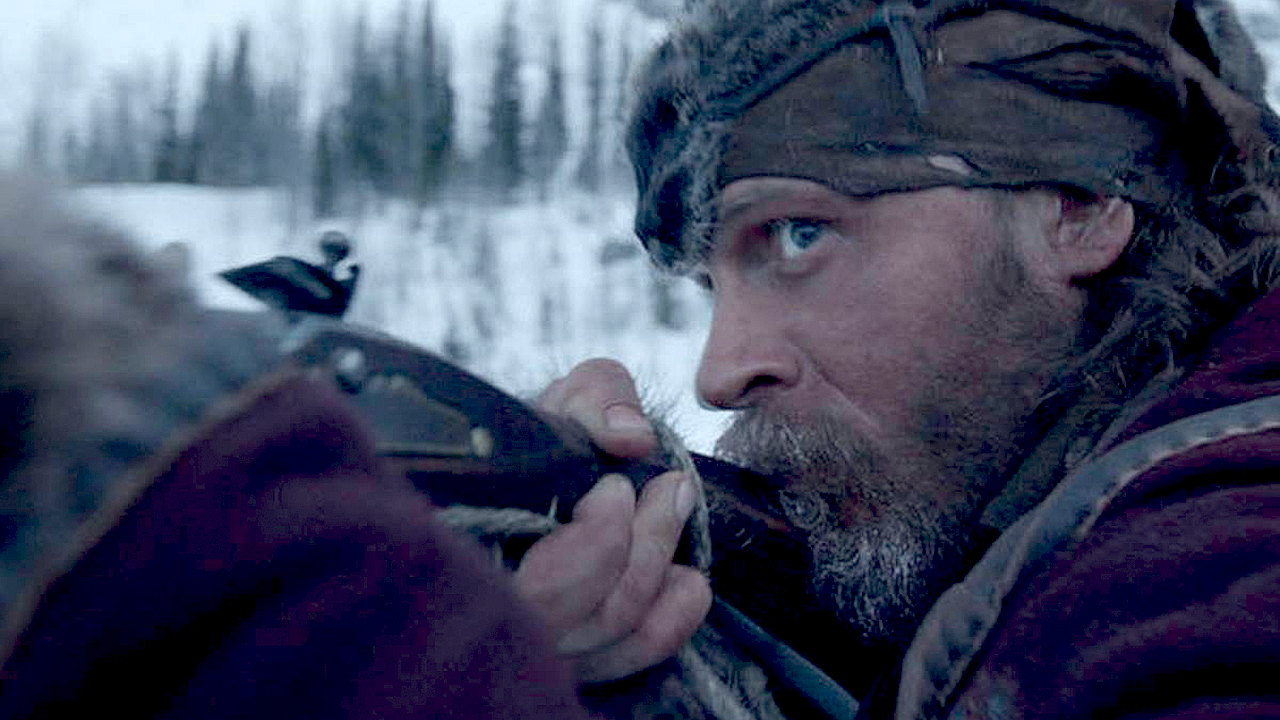 Tom Hardy (Mad Max: Fury Road, Legend) co-stars as John Fitzgerald, the anti-thesis to DiCaprio's Glass. Hardy plays his character with murderous, greedy menace. Fitzgerald and Glass are members of a hunting expedition at film's start but can't get along thanks entirely to Fitzgerald's racism directed at Glass and his half-Pawnee son. When he volunteers to stay behind with Glass following his nightmarish bear mauling, the greedy hunter quickly sees no profit in keeping Glass alive and begins planting seeds of doubt and lies in the ear of fellow hunter and volunteer, the legendary Jim Bridger—played with passion and overwhelming guilt by Will Poulter (We're the Millers, The Chronicles of Narnia: The Voyage of the Dawn Treader). Domhnall Gleeson (Star Wars: The Force Awakens, Ex Machina) also appears as Andrew Henry, the leader of the expedition who charges Bridger and Fitzgerald with caring for Glass. Henry comes into play for the film's third act, as well, when Glass comes looking for his revenge. Look for Hardy's name to pop up in awards conversation as a premier supporting actor for his role in The Revenant.

Like Birdman, Iñárritu employs long, captivating shots to maximize suspense; however, it has an entirely different feeling in his latest due to the film's intense, graphic, realistic sequences depicting brutal, uncompromising violence and survival. Lubezki's cinematography falls nothing short of amazing as the camera work skillfully sticks to natural light and stunning scenery with nary a studio in sight. Having not starred in a film since 2013, DiCaprio let the environment inspire his performance—going above and beyond the call of duty to play his role by placing himself directly in his character's situation. The Revenant emerges as a testament to cinematic achievement, proving that this kind of production cannot only be done, but that it can be done to perfection.


Keywords:
the revenant review, revenant movie, leonardo dicaprio, tom hardy, alejandro g inarritu, revenge