The Martian review
Time to rescue Matt Damon again
While cinematic paragon Ridley Scott's (Alien, Gladiator) latest motion picture failed to set October box office records, that didn't stop it from debuting in the top position to the second-highest October opening of all-time. Making The Martian has reportedly reinvigorated and inspired Scott to keep going with his zeal for science-fiction storytelling as the director recently confirmed multiple sequels to his 2012 film, Prometheus, a prequel to Scott's 1979 film, Alien. The Martian, however, is a far-cry from the horror-gory sci-fi motif of Alien. Scott's newest film follows an astronaut stranded on Mars in the not-so-distant future and documents his survival on the planet as he awaits rescue. Unfortunately, it follows Scott's newest trend among his 3D films like Prometheus and Exodus: Gods and Kings as the film simply runs too long and explores unnecessary avenues. At 141 minutes, Scott could easily shave that down to a comfortable two-hour window while maintaining suspense and quality narrative.

Viewers should still see The Martian, however,as audiences and critics alike laud the film for its emphasis on "science" over "fiction." Even renowned astrophysicist/ author Neil deGrasse Tyson took to Twitter, declaring The Martian "…got crucial science right, while enhancing the story by fictionalizing the science that remained." With Dr. Tyson's stamp of approval, how can one go wrong? The emphasis on science sets The Martian apart from other sci-fi films. Scott doesn't rely on phasers, lasers, or lightsabers to hold the audience's attention or huge action sequences to tell the story. When an astronaut gets lost in a Martian storm as his crew heads for their ship and takes off presuming him to have died, he can either accept defeat or defy the odds and "science the s*** out of this." Suspense naturally develops from this predicament, and Scott milks it for all its worth—getting every ounce of drama to the point where the final sequence just gets annoying.




Academy Award-winner Matt Damon (the Bourne trilogy, The Monuments Men) stars as Mark Watney, the titular hero—a botanist on his exploration team of space travelers. Damon brings his trademark "everyman" to the role of Watney, a resourceful sort with the will to survive who isn't afraid to use the f-word at NASA's expense in front of the viewing public back on Earth. He isn't Han Solo or Star Lord—he's a lot smarter (but probably not as good with a blaster). Damon manifests exactly who Scott needed for Watney and picturing anyone else in the role proves difficult. While the film borders on Gravity's theme of harrowing-adventure-all-alone-in-space, Damon's Watney keeps the film firmly cemented in reality despite Gravity's more amenable runtime. Outside of space, Watney doesn't really pop for viewers. He has nobody waiting for him on Earth save his parents. Every bit of effort Watney puts forth works toward survival, but what on Earth is so special to him? Who or what is waiting for him when he returns? These questions never get answered in the 141 minutes of The Martian. For a movie about returning to Earth, he fails to mention why Earth serves as such a motivator—especially for a fearless traveller.

Scott also packs his extended, supporting cast with established and emerging talent. Jessica Chastain (The Help, Lawless) stands out among Watney's fellow crewmembers. She plays the motivated mission commander hell-bent on retrieving Damon. Michael Peña (Ant-Man), Kate Mara (Fantastic Four), Sebastian Stan (Captain America: The Winter Soldier), and Aksel Hennie (Headhunters) round out the loyal, steadfast crew determined to see their missing comrade again. Chiwetel Ejiofor (12 Years a Slave, Serenity) steals several scenes as a NASA administrator zealous to send another mission to Mars, boldly spinning Watney's ordeal as a platform to return to the planet. Jeff Daniels (Dumb and Dumber Too, "The Newsroom") plays the "head" of NASA operations as far as The Martian concerns itself. While never raising his voice, Daniels' raises many questions on the ethics of space exploration—ultimately asking the audience if chancing Watney's safe return is worth others' survival. Donald Glover ("Community") also appears as a brilliant mind working for NASA. His presentation is notably lackluster as it simply repeats his performance of the "Community" episode where Troy and Abed switch bodies (if one hasn't seen the series, this shouldn't bother the viewer).




Another big motif in The Martian includes China. As American movie studios continue to appease international audiences, the Chinese market has recently exploded in demand for American films. The Chinese equivalent of NASA plays heavily into the later plot, and without ruining the film, takes a large role in helping to rescue Watney. We've seen blockbuster productions like Iron Man 3 and Transformers: Age of Extinction shoot a scene or two in China with Chinese stars, but the country never served as a plot requisite quite like it does in The Martian. Look for this trend to exponentially pick up over the next year.

The Martian makes the value of a ticket worth the asking price with eye-popping 3D spectacle. Like his last two features, Scott keeps honing his skills with the third visual dimension. While Prometheus divided cinema buffs in terms of storytelling, one couldn't deny the exceptional 3D quality as the director always takes the time to play with and contrast the depth of field. Industrial Light & Magic, Clear Angle Studios, Moving Picture Company, and The Senate Visual Effects take a little tract of red desert in Jordan where Scott shot exteriors and turn it into Watney's 3D Mars with breathtaking scope and unbelievable clarity. Despite a bloated runtime, The Martian looks great throughout.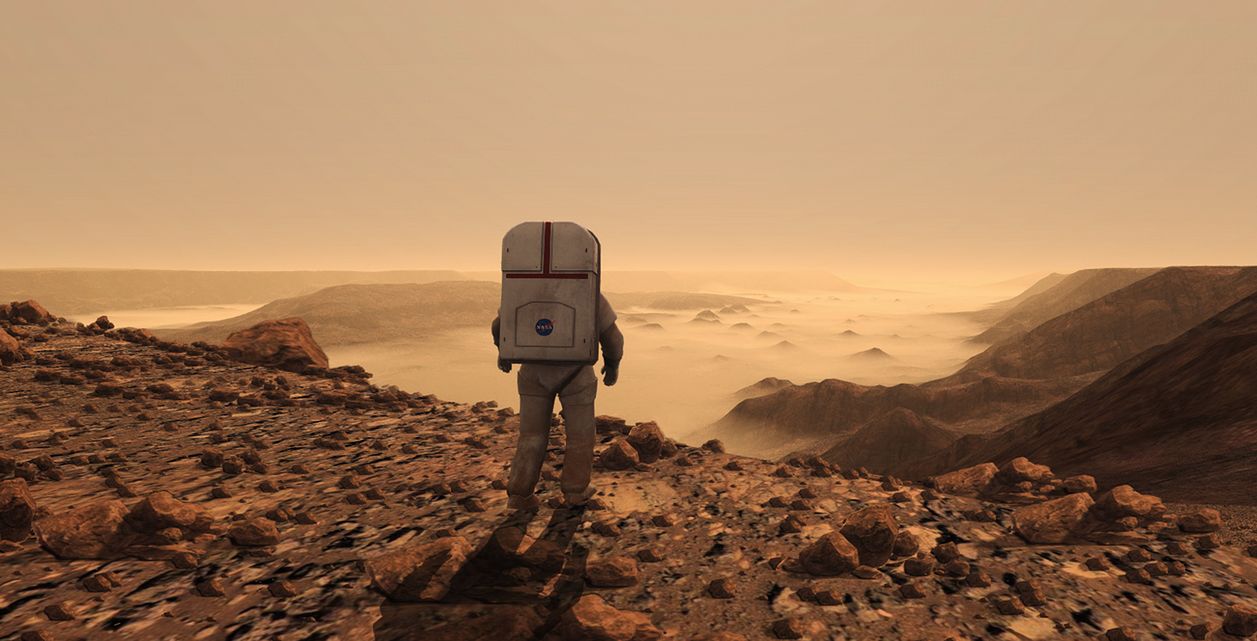 The Martian looks to be iconic filmmaker Ridley Scott's jumping-off point for future science fiction endeavors. With a can't-miss lead in Matt Damon and an extended, talented cast of character actors, the director's newest film translates easily to screen with the help of outstanding visual effects. The plot teeters with necessity as the first plan/ rescue idea essentially gets negated/ overturned/ undone after an unforeseen malfunction with the home base. The Martian doesn't really get off the ground until Watney's survival efforts are seemingly wasted. Still, the valuable lesson of the film shines through to the very end as science becomes the key to achieving the collective goal.
Keywords:
the martian review, martian movie 2015, matt damon, nasa, mars, ridley scott, jessica chastain, michael pena,