The Man from U.N.C.L.E. review
60s spy caper across post-war Europe
After the splash Mission: Impossible—Rogue Nation made at the box office last weekend and the one before, audiences may not rush to catch another spy adventure on film; however, Warner Bros. and director Guy Ritchie (Sherlock Holmes, Lock, Stock, and Two Smoking Barrels) trust this isn't the case this weekend with their motion picture remake of the popular 60s television series "The Man from U.N.C.L.E." hitting cinema screens. Ritchie began his career making comedy thrillers that typically followed one or several Cockney criminals, but the filmmaker has since worked with Warner Bros. Studios on creating quality, exciting blockbusters such as both Sherlock Holmes films, now U.N.C.L.E., a King Arthur biopic next year with Charlie Hunnam, and a third Holmes movie green-lit for scripting. In the director's newest film, he finally follows a protagonist who wasn't born in London, but still managed to cast fellow Brit Henry Cavill (Man of Steel, "The Tudors") in a leading role. Despite losing the role of James Bond to Daniel Craig a decade ago, Cavill proves in The Man from U.N.C.L.E. that he can create an efficient, deadly, seductive spy to make a character all his own.


Ritchie makes his film an origin story for leads Cavill and Armie Hammer (The Lone Ranger, The Social Network). The popular television show featured an American spy partnered with a Soviet spy, working to help a global peacekeeping venture (U.N.C.L.E.) thwart an evil organization (T.H.R.U.S.H.). In The Man from U.N.C.L.E., the filmmaker explores the start of U.N.C.L.E. and what originally brought Cavill's CIA agent Napoleon Solo and Hammer's KGB operative Illya Kuryakin together for their first mission. Despite being the only American cast member, Hammer plays the Soviet Kuryakin while Cavill keeps his all-American rhythms from playing Superman for the role of Solo. These two share excellent chemistry on screen as Hammer's no-nonsense, soft-spoken, hard-hitting Kuryakin plays well off Cavill's cavalier, confident, womanizing Solo.

The film focuses on Gaby, a mysterious, young mechanic, living in East Berlin during the early sixties. Swedish actress Alicia Vikander (Ex Machina, Seventh Son) plays Gaby much like Rebecca Ferguson's double agent from Mission: Impossible—Rogue Nation. She plays her own game, letting Kuryakin and Solo brawl bad guys and each other in order to keep herself a step ahead of the others. Her father was one of Hitler's top scientists and both American and Soviet intelligence suggest he may have contributed to building a secret nuclear weapon. Although Solo first meets Gaby and introduces her to the action of international espionage, she spends the majority of her scenes with Kuryakin as the two become romantic interests of each other.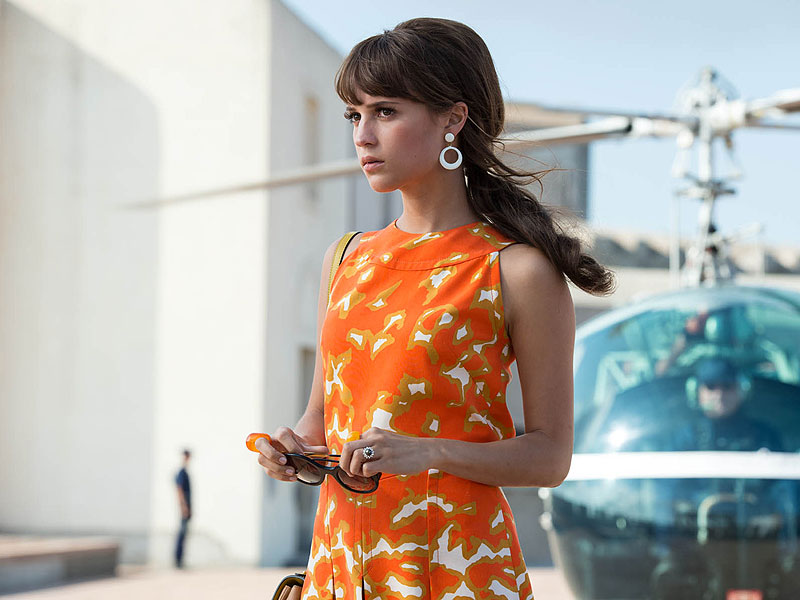 While Kuryakin and Gaby try to figure out what kind of relationship they have, Solo spends his spare time seducing women until he has to focus his attention on Victoria, who knows a thing or two about Gaby's father. Played by Australian actress Elizabeth Debicki (The Great Gatsby, Macbeth), Victoria serves as the featured antagonist. She's wealthy, beautiful, and deadly—a lethal foil for Cavill's suave Solo. To offset the exotic, striking, villainous Victoria, Ritchie employs a couple of middle-aged British actors in Hugh Grant (Four Weddings and a Funeral, Cloud Atlas) and Jared Harris ("Mad Men," Sherlock Holmes: A Game of Shadows) to convey the lack of glamour in government espionage work.

What sets The Man from U.N.C.L.E. apart from other Ritchie movies is the sixties flair. Composer Daniel Pemberton (The Counselor) creates a jazzy, upbeat score to make the viewer feel like he or she just travelled back in time. Even in suspenseful situations and dire straits, the catchy music keeps a light mood throughout the film in classic Guy Ritchie fashion. Costume designer Joanna Johnston (Forrest Gump) never lets us forget the time period as she dresses Gaby and Victoria in unmistakable sixties fashion with broad, groovy sunglasses, wide-brimmed sunhats, and low-hanging jewelry. Solo looks like Sean Connery's James Bond in every scene he dons a suit to really put this movie into perspective.


Unlike last summer, industry analysts indicate that August will see fewer ticket sales. While The Man from U.N.C.L.E. isn't the classic that Ritchie's earlier films became, it's a worthwhile blockbuster with more than just shooting, explosions, and extensive CGI. Ritchie's unique style of action and dialogue lend itself well to a spy movie looking to set itself apart from other franchises. In a league where Bond, Bourne, and Hunt operate in the present day with top-tier technology, the director's newest film stands as a refreshing change-up to the spy genre with its 60s motif and lack of constant, perpetual intensity. Cavill and Hammer turn in excellent lead performances in the first film of what could be another franchise of buddy cops (Holmes and Watson) for Ritchie.


Keywords:
the man from u.n.c.l.e, the man from uncle movie 2015, guy ritchie, henry cavill, armie hammer, alicia vikander, warner bros, spy, 60s