The Babadook review
A bad book
2014's box office slump at the movies isn't necessarily news at this point. Industry speculators wonder when (or if) the box office dip will turn around to making a spreadable profit once again as only established franchise blockbusters continue dominating the box office. 2013 wasn't the best recorded year in the box office, but there was more diversity in ticket sales—the horror genre sure cleaned up with a slew of new hits: The Conjuring, You're Next, Mama, Stoker, and The Purge. 2014 hasn't been as profitable for the genre. Despite a well-liked sequel to The Purge in The Purge: Anarchy, horror hasn't really made a splash this year. Annabelle and Jessabelle both received negative critical reviews despite Annabelle perhaps contributing the most to the autumnal box office with a sizeable profit-margin (worldwide gross $252.6 million on $6.5 million budget). Even celebrated filmmaker Kevin Smith's first foray into horror (Canadian horror, at that), Tusk, tanked and failed to make a profit. As 2014 winds to a close with little hope for a shining example of decent horror, along comes the terrifying, thought-provoking The Babadook after a long journey from Australia and all through the film festival circuit as it originally debuted in January at the Sundance Film Festival.
Rookie filmmaker Jennifer Kent, a former Australian actress, wrote and directed The Babadook which was based on her 2005 short film "Monster," not to be confused with the 2003 film of the same title starring Charlize Theron. Kent cited many 70s and 80s horror flicks as inspiration and no film has as obvious an influence as The Shining­—the protagonist, Amelia, gradually slips into some sort of possession and insanity over the course of a few days inside of a locked establishment. (In The Shining, the snow and isolation cut the characters off from civilization; in The Babadook, the mother/ protagonist cut the phone line and locked all the windows and doors to trap herself and her son inside the home.) The Babadook creature itself draws influence from Nosferatu and other expressionist blood-suckers interpretations despite the Babadook not being a vampire.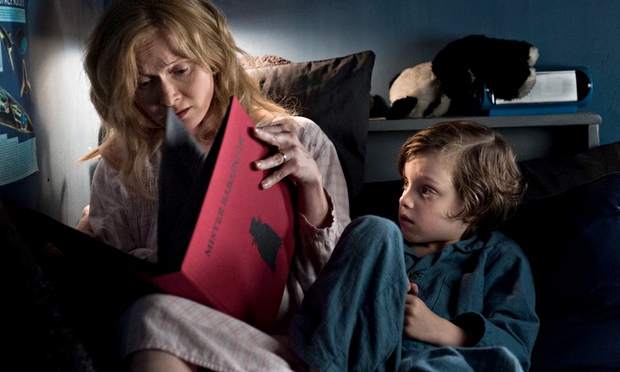 Australian actress Essie Davis (Legend of the Guardians: The Owls of Ga'Hoole, The Matrix Reloaded) gives a star-making performance as a mother/ nurse/ neighbor named Amelia nearing the end of her sanity. She works hard and loves her fulfilling job at a nursing home. Her home life is another story where she lives as a single mother to Samuel (Noah Wiseman). Amelia's husband died seven years ago in a car accident on the way to the hospital to have her son. Her struggle to raise a troubled child in a haunted house creates some of the most uniquely horrific conflict on film in a long time. Amelia has so little identity to the audience at film's start that news of her successful writing career before Samuel and the death of her husband are a bit of a shock to learn in the middle of the narrative. She hardly seems the creative type anymore as working and caring for Samuel consumes her schedule. Any free time afforded to her primarily goes to watching television.
Samuel chooses what bedtime story to read one evening, and chooses a rather interesting selection from the storybook shelf. From here, the titular character sees its introduction and the story turns to madness. Amelia's haunted house situation becomes an overwhelming metaphor for parenting Samuel. Kent isn't afraid to touch on typically taboo topics—one of which being that motherhood can be difficult and stressful for many women. The Babadook preys on Amelia's situation—heightening it to further her depression and steer her crazy. Despite falling 100% under the horror category, The Babadook tethers itself to realistic situations that can scare people as well—such as raising a child by oneself with the government breathing down one's neck, or violent outbursts from said child. Horror films with relatable, realistic characters always have a greater following compared to those completely reliant on supernatural elements and CGI.


Multiple viewings of The Babadook will, of course, gather multiple interpretations. Many people will argue as to which scenes are real and which are solely in Amelia's head (one theory even suggests merely one shot in the third act is real to the story while the rest is her fantasy). Viewers will see the film differently and the only thing that matters is having an interpretation (as opposed to not) unless you're one of those "director's intention" types like me.
The Babadook offers 2014's best horror narrative due to its stellar lead performances from Essie Davis and Noah Wiseman as a mother and son haunted by a children's book. The film isn't without its flaws, however, as editing problems abruptly jar the viewer—jumping ever-so-slightly slightly ahead in narrative at times without tying up loose, however unnecessary, ends/ scenes. Perhaps that's what director/ writer Jennifer Kent intended, however, depending on how one views it. The Babadook touches on relevant topics and looks at the struggle of a single mother from a horror format. Kent's first submission as a filmmaker should warrant many studio suitors as hopefully she can demonstrate her ability beyond the horror genre and with a larger budget.


Keywords:
The Babadook, babadook review, Jennifer Kent, Essie Davis, Australian horror