Sin City: A Dame to Kill For review
Just Another Saturday Night
Robert Rodriguez and Frank Miller's co-directed sequel to Sin City never hits the high notes featured in the first cinematic volume nearly ten years ago. However, the film certainly proves that when graphic novel hero Miller has a fellow director to share the load, audiences aren't treated to the same bloated, underwhelming experience they received from his only solo-directed film, The Spirit. The directing duo's latest joint venture shows flair and style, but also runs into trouble moving forward in some aspects, particularly the original material as the comic-based material seems like mere foundation for the new tales to take precedence.

Sin City: A Dame to Kill For follows four main stories: two based on published material ("Just Another Saturday Night" and "A Dame to Kill For"), and two new stories original to the film ("The Long Bad Night" and "Nancy's Last Dance"). Like the first entry, the cast makes for the most enjoyable aspect of the film in spite of its unique presentation with returning and new cast members alike each turning in memorable performances. The third act beckons for a treat in nature to the scene guest-directed by Quentin Tarantino and starring Benicio Del Toro from Sin City. Instead, the film builds to a predictable, drawn-out close, abandoning the twists of hard-boiled narrative for a neo-Hollywood ending focused on revenge. As per usual, Rodriguez edited the film and was responsible for music.




Sin City: A Dame to Kill For begins in media res as fan-favorite Marv (Academy Award-nominee Mickey Rourke- The Wrestler, Immortals) awakens in the moments following a bloody event in Basin City. This segment is "Just Another Saturday Night," and only lasts until the opening credits. The original story "Nancy's Last Dance" comes off as an addendum to the first sequence as Marv and Nancy's fates intertwine throughout due mostly in part to Marv frequenting Nancy's place of work, but mostly because "Just Another Saturday Night" takes place right on the heels of Marv witnessing Hartigan's suicide in front of Nancy at the end of Sin City. Rourke's Marv makes the movie—having the most fun of the extensive cast of characters, sticking his nose in everybody's business, and getting in skirmishes all over the city. Unfortunately Jessica Alba's (The Eye, Fantastic Four) Nancy gets reduced to dancing and drinking for most of her scenes. Rosario Dawson (Alexander, Clerks II) returns for an extended cameo of sorts as Old Town hotshot Gail. She gets a few scenes with series newcomer Josh Brolin, including an action scene in the "A Dame to Kill For" segment. Jaime King (My Bloody Valentine, "Heart of Dixie") makes a brief appearance as the twins Goldie and Wendy while Bruce Willis' Hartigan pops in from beyond the grave to offer advice for Nancy as a figment of her drunken stupor.

Powers Boothe (The Avengers¸ The Final Season) also reprises his role from the first film as Senator Roark. Surprisingly, Boothe's bad guy has perhaps the most amount of screen time for any one performer of the film, serving antagonist roles in both original segments. I'll admit I didn't expect that the Sin City sequel would feature Roark as often as it does. Boothe chews up the scenery, expanding on his role from the first film and channeling the villain he became twenty years ago in Tombstone as the ringleader of the Cowboys' gang.




Evil and chilling Roark may be, but he isn't as memorable as the newcomer villain and sub-titular character, Ava Lord, played by Eva Green (300: Rise of an Empire, Casino Royale). Green's Lord, although not a force for good by any means outside of pleasure, relishes her role as a definitive femme fatale on par with some of the best from the film noirs of the 40s and 50s. Her Ava has every single man wrapped around her finger and has no qualms using every last one of them at her disposal like a bona fide sociopath. She spends as much time clothed on screen as not, using her lithe, curvy form to seduce fellow cast novice, Oscar-nominee Josh Brolin (Milk¸ W.) as Dwight McCarthy.

Actor Clive Owen (King Arthur, Children of Men) played Dwight McCarthy in the 2005 original and his change in face gets explained for all of those who haven't read the Sin City series. Brolin's McCarthy predates Owen's in terms of timeline as the non-sequential sequel has segments both predating and postdating Sin City. This earlier McCarthy has the same good guy rhythms as Owen's, but not the same confidence in his relationship with Dawson's Gail. Dwight falls for Ava after a passionate evening and quickly unravels along with the other desperate men of Basin City. As Dwight, Brolin becomes a modern day Humphrey Bogart, reminiscent of the many protagonist roles Bogart had as a leading man in American film noir of the 40s and 50s. Dennis Haysbert ("24," Major League) also plays a recast character as Lord's stoic henchman, Manute, replacing the late actor Michael Clarke Duncan who played the character in 2005. Haysbert doesn't receive much time to explore the character, but certainly shows glimpses of Manute's own bizarre delusions of Ava Lord and proves to be Marv's worthiest adversary to date.




Joseph Gordon-Levitt (The Dark Knight Rises, 50/50) continues his tour of working with top tier directors, this time with Robert Rodriguez. He plays casino gambler Johnny in "The Long Bad Night" segment, undergoing the titular long, bad night. The role of Johnny was rumored to have been written for none other than Johnny Depp back when the sequel was stuck in development hell. Gordon-Levitt's trademark optimism and smile take him rather far in a role seemingly perfect for him. He doesn't stand the tallest or compete with the strongest, but he's confident and lucky with revenge on his brain.
A whole slew of new cast additions give Sin City: A Dame to Kill For a somewhat exciting dynamic. Acting legend Ray Liotta (GoodFellas, Field of Dreams)pops in to play a philandering, murderous john and subject of Dwight's initial stake out. International pop super star Lady Gaga cameos as a kind waitress who helps Johnny on his path. Jeremy Piven ("Entourage," Runaway Jury) and Christopher Meloni ("Law & Order: Special Victims Unit," Man of Steel) play partners on the Basin City police force. Character actor Stacy Keach (Nebraska, American History X) plays the deformed mob leader Herr Wallenquist, striking a deal with Ava Lord. Even saxophone icon Johnny Reno sits next to Marv for a view shots to watch Nancy dance. Don't miss the director cameos, there are more than one.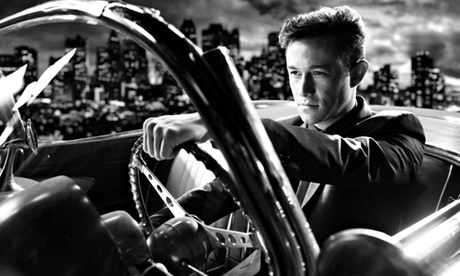 Perhaps the only noticeable improvement of the first installment is the implementation of 3D, a technique lending itself well to the style of filmmaking used for these black-and-white, green screen blockbusters. Post-conversion 3D doesn't come off as obvious when images are already computer-generated. The 3D element makes Sin City: A Dame to Kill For a motion picture comic book. Spectacular 3D images such as a car chase winding around Marv's torso as he narrates/ recalls the event or Senator Roark chopping a mini-Johnny up with playing cards in a fantasy bring film noir to a new level.

The sequel has a considerably shorter run time than its predecessor by about twenty minutes, or forty if you're a fan of the unrated Sin City cut. The problem is that the pacing is worse here for some reason, perhaps because the segment jumps aren't as cohesive as before? "Nancy's Last Dance" takes a long time to start going anywhere and "The Long Bad Night" has the unfortunate quality of not transitioning well with the other stories despite sharing a villain with one. "Just Another Saturday Night" only makes up about ten minutes of the overall film, but still serves as a terrific transition from first part to second. "A Dame to Kill For" has a rather fluid pace, but still spends a good portion of time admiring Ava Lord's nude shape when we could be moving forward with the plot.


Directors Robert Rodriguez and Frank Miller team up again to revisit familiar territory with Sin City: A Dame to Kill For. Although not the classic film that the original would become, the sequel holds a candle to the first installment with another outstanding, remarkable cast. Pacing issues slow the film down, but added 3D makes for a more "graphic novel" atmosphere, making the page seemingly come to life. Lazy transitions (cutting to black) make for a less-cohesive narrative structure, blurring the lines of past and present. New additions Eva Green and Joseph Gordon-Levitt breathe new, exciting life into the decade-old franchise, but the film is saved by Mickey Rourke's Marv—a large, loveable lug having fun in an over-the-top feature film that exceeds expectations as far as sequels go.


Keywords:
Sin City: A Dame to Kill For review, Robert Rodriguez, Frank Miller, Mickey Rourke, Jessica Alba, Eva Green, Josh Brolin, Joseph Gordon-Levitt, Sin City