Gone Girl review
Fincher goes all-out Hitchcock on everybody
For a picture about the sociopathic side of marriage, I can't recommend Gone Girl for couples planning to marry with my own wedding taking place in a matter of weeks. Think of it like an NFL kicker icing himself with a second remaining on the clock.
"I imagine cracking open her head, unspooling her brain, trying to get answers." Gone Girl's protagonist Nick Dunne (Academy Award winner Ben Affleck- Good Will Hunting, Argo) begins his nightmarish descent into media frenzy with a damning narration to the viewer before his fellow man turns on him in celebrated director David Fincher's (Seven, Fight Club) latest film. When Dunne says all this, a pretty, blonde head rests on his lap—the first hint that Alfred Hitchcock has one of the greater influences on the film outside of Fincher himself. The second nod is the classic Hitchcockian theme of the incorrectly implicated protagonist or "the wrong man" like in North By Northwest or The 39 Steps with Affleck's Dunne quickly finding himself the lead suspect in his wife's sudden disappearance on the day of their fifth wedding anniversary. While it doesn't directly reference film noir like A Walk Among the Tombstones a few weeks ago, the dark tones, disreputable characters and femme fatale give a classic theme to a postmodern film based on the novel by Gillian Flynn.

Like Hitchcock, Fincher knows how to get the most out of his camera in every shot. Even more like Hitchcock, Fincher doesn't fully rely on his own skill as filmmaker to build suspense and create tension in a given scene. The legendary British director employed composer Bernard Herrmann to write the music for some of his best films—Vertigo¸ North By Northwest, Psycho. Fincher has his own go-to composers with Trent Reznor and Atticus Ross. This go-around Reznor and Ross go for the singular tones they hit in The Social Network than the more experimental soundtrack heard in The Girl with the Dragon Tattoo (2011). Fincher runs into pacing problems and makes his film a bit longer than necessary as he's been known to do but the suspenseful score keeps the audience on their toes on all times because with these characters, just about anything can change on a whim.




Ben Affleck turns in his best performance ever put onto film as "the wrong man" akin to Cary Grant and Jimmy Stewart in a much grimmer sense. Despite the despicable acts and unforgivable flaws of Nick Dunne, Affleck finds a relatable quality in his character and manages to hold on to it throughout. Most of the picture deals with how terribly Nick handled his marriage. Affleck finds the aspect of "what does anyone do under these awful circumstances?" and makes us feel what Nick's feeling even if one isn't as good a liar as he. The popularity of a film relies on whether or not the audience cares for the protagonist and how does one root for a possible murderer? Just watch Gone Girl.

Gone Girl's supporting cast doesn't disappoint either. Rosamund Pike (The World's End, Jack Reacher) turns in a performance nothing short of Academy Award-nominated. Pike plays Nick's disappeared wife, Amy, a blonde femme fatale with money, wicked paranoia, and a penchant for imposing her will. We could explore the further nuances of her performance, but that would ruin too much. Neil Patrick Harris (Harold and Kumar Go to White Castle, "How I Met Your Mother") plays Amy's rich, creepy ex-boyfriend. He even channels Barney Stinson in his first scene with Pike, listing off the features of his well-stocked lake house. Tyler Perry (Alex Cross, Madea's Family Reunion) also gives his best performance in recent memory as a sharp, likeable high-profile, defense attorney who decides to take on Affleck as a client in the wake of Amy's disappearance. Stage actress Carrie Coon ("The Leftovers") gives a break-out film performance as Affleck's twin sister and moral compass to give the film its closest thing to an innocent character, because even the police seem much too eager to pin it all on her brother.




There are other Hitchcock staples in Fincher's cast outside of a blonde in danger and the potential wrong man. Alfred Hitchcock's perpetually perplexed police pop up in Gone Girl in the form of Kim Dickens ("Treme," "Sons of Anarchy") and Patrick Fugit (Almost Famous, We Bought a Zoo). Although the cops aren't quite as dumb or helpless in Gone Girl as they would in a Hitch movie, they never quite hit the nail on the head. While Hitch never had female law enforcement represented, Fincher does, and to her credit, Dickens' Detective Boney outshines her colleague's instincts. One scene even has Detective Boney questioning a female character in a room full of ignorant men far too blinded by their own male guilt to see what's going on right before them. Gender politics often became a latent topic of Hitchcock films as well, both in his earlier British era and his more popular American run.

However, the aspect of Gone Girl that hearkens to Alfred Hitchcock the most is the director himself, David Fincher. At this stage in his career as a filmmaker, Fincher has become well-known as a master of suspense with the following films: Seven, The Game, Fight Club, Panic Room, Zodiac, and The Girl with the Dragon Tattoo (2011). Simply put, Gone Girl couldn't have been made quite as well by any of Fincher's contemporaries, nor would they have been likely to take it on because Seven still hasn't been outdone as the best thriller of all-time. He references his own work all over the place like Hitch would. Gone Girl, like Zodiac, pretty much focuses on the case itself from start to finish and still gets caught up with too many drawn-out suspenseful sequences. Like The Game, a plan has been set in motion all along to surprise the main character. Like Panic Room, the film relies heavily on dialogue to move the plot along in addition to the use of security cameras. The use of narration to give the film a sense of pace reminds one of Jack's narration in Fight Club, and the on-screen reminders of days-in-relation-to-the-plot was the device used in Seven albeit more complicated and necessary for Gone Girl.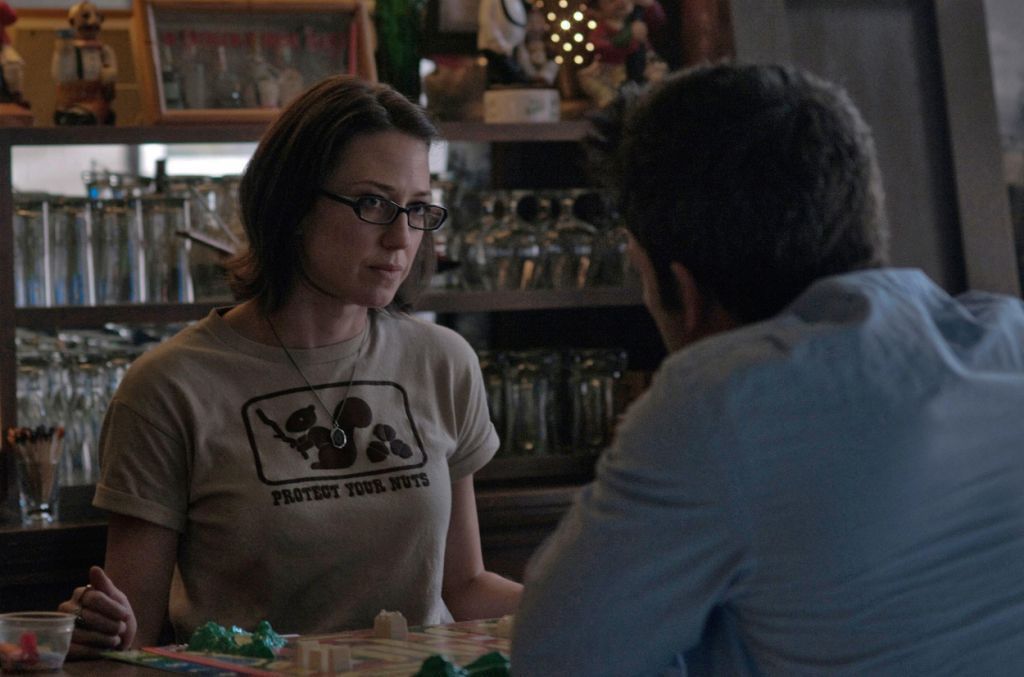 With Gone Girl, David Fincher continues his strong trend of acclaimed, quality filmmaking. Like Hitchcock, Fincher adds yet another classic to his oeuvre after another. After entering television with "House of Cards," remaking a European film, documenting the beginning of Facebook, and following Benjamin Button's curious case, it's good to see the director return to the realm of dark, brooding thrillers. Maybe it is a bit long due to a few sequences milking out every last drop of suspense, but who complains about too much Fincher? Ben Affleck proves that his performing on film has improved at a rate on par with his excellent filmmaking ability. Here's hoping Affleck's next directorial effort finds some inspiration from his time with the modern day master of suspense.


Keywords:
Gone Girl review, David Fincher, Gillian Flynn, Ben Affleck, Rosamund Pike, Carrie Coon, Neil Patrick Harris, Tyler Perry