Black Mass review
Depp's most outstanding film performance
With his latest film, Black Mass, international super star Johnny Depp (Pirates of the Caribbean franchise, Alice in Wonderland) has finally turned around his streak of unsuccessful films including: The Lone Ranger, Transcendence, Mortdecai, Dark Shadows, and even Tusk. The actor should largely thank emerging auteur Scott Cooper (Out of the Furnace, Crazy Heart) for this career resurgence as the filmmaker creates a gangster epic on par with the greatest in the genre, Martin Scorsese. Based on the nonfiction book by Dick Lehr and Gerald O'Neill, Cooper's film follows the true story of South Boston kingpin "Whitey" Bulger, or Jimmy, as he's called in the film. Bulger was the inspiration for Jack Nicholson's character "Frank Costello" in Scorsese's 2006 Academy Award-winner for Best Picture, The Departed. The connections between The Departed and Black Mass don't stop there. However, viewers need not worry that the latter merely copies the former as Cooper proves his name deserves mention among other rising, lauded filmmakers such as Neill Blomkamp, Ben Affleck, and Sofia Coppola.


Black Mass presents Bulger through the narrated testimonies of the gangster's numerous associates: brawlers, an executioner, right-hand confidant, et cetera. Like Nicholson's Costello, Depp's Bulger always gets around with a crew of at least three or four goons. The director cast several acclaimed, talented character actors to co-star with Depp. Beginning with Jesse Plemons' ("Breaking Bad," The Master)bouncer/ tough guy Kevin Weeks, we learn Bulger had a heart when the mobster orders his men to pull a vehicle over simply to help an elderly neighbor woman carry her groceries indoors. Through W. Earl Brown's ("True Detective," Wild) executioner John Martorano, we learn about the astonishing body count Bulger created while rising to power. Finally, Rory Cochrane's (Dazed and Confused, Argo) Steve Flemmi, Bulger's right hand, describes the nightmarish, cold-blooded psychopath who terrorized Southie in the 70s and 80s with violent acts that include murdering an associate's stepdaughter before ordering him to clean up the mess because the gangster wants to nap in the adjacent room.

The henchmen testify throughout the film in order to not only condemn the gangster for his reign of terror, but also to implicate FBI Special Agent John Connolly for letting Bulger's Winter Hill Gang slip through the Bureau's fingers for over a decade. Australian star Joel Edgerton (The Great Gatsby, Exodus: Gods and Kings) co-stars as Connolly, who climbs through the ranks at the FBI when he aligns himself with Bulger to bring down the Italian mafia in Boston. As Bulger gives up information on his mafia rivals to the Feds, Connolly basically leaves his new informant free to do what he pleases as long as the gangster drops the occasional mafia tip-off. As the FBI takes down his competition for him, Bulger expands his criminal enterprise without interruption from other criminals or law enforcement. Connolly quickly lands himself under the microscope of hesitant peers cautious of teaming up with an ex-con who got out of Alcatraz early for volunteering to drop acid nearly "fifty times" as part of a government experiment.


A quartet of gifted character actors comprise Connolly's peer group, as well. Kevin Bacon (X-Men: First Class, "The Following") plays Connolly's FBI superior, always reluctant with the unholy union. Adam Scott ("Parks and Recreation," Step Brothers) plays Connolly's FBI contemporary who never trusts Connolly as he knows the agent and the Bulger brothers grew up together in Southie. David Harbour (Quantum of Solace, A Walk Among the Tombstones) plays Connolly's partner who ultimately gave him up to save his own hide. He's another witness narrating testimony, but his account is tied to his partner's involvement. Finally, in-demand actor Corey Stoll (Ant-Man, "The Strain") appears as a Federal attorney who decides that Connolly and Bulger's allegiance needs to end. Once Stoll's character enters the picture, the situation begins to get a Scorsese-Departed vibe of the cat-and-mouse, Southie criminal element. The Federal attorney seems to be the only character able to deduce that Bulger obviously used the FBI to get rid of his competition while operating under the guise of informant protection.

Unfortunately, there are a few perplexing aspects to Black Mass. In the first act, Cooper presents Whitey's family—a son and live-in girlfriend played by rising star Dakota Johnson (Fifty Shades of Grey, Need For Speed). Their scenes only serve the lead character, and ultimately slow the greater story. I understand Cooper's need to inject a feminine presence to the film, but he really should have boosted Johnson's role beyond a couple scenes and made her a principal character or fully committed to a boys' club because the few scenes with Bulger's girlfriend have nothing to do with the FBI investigation/ allegiance. Cooper also underutilizes the other international star from his cast in Benedict Cumberbatch (The Hobbit trilogy, "Sherlock"). Cumberbatch plays the gangster's brother, Massachusetts state senator Bill Bulger, trying to do right by his family and constituents. His close relationship with his brother draws unwanted attention. Unfortunately, Cumberbatch has only a few scenes as Black Mass merely glosses the relationship between the Bulger brothers. Cooper never examines the lengths Bill and Jimmy go to help each other out in their chosen professions. Did Jimmy help put Bill in office? Did Bill help keep the heat off Jimmy's back? Surely other viewers wondered about this?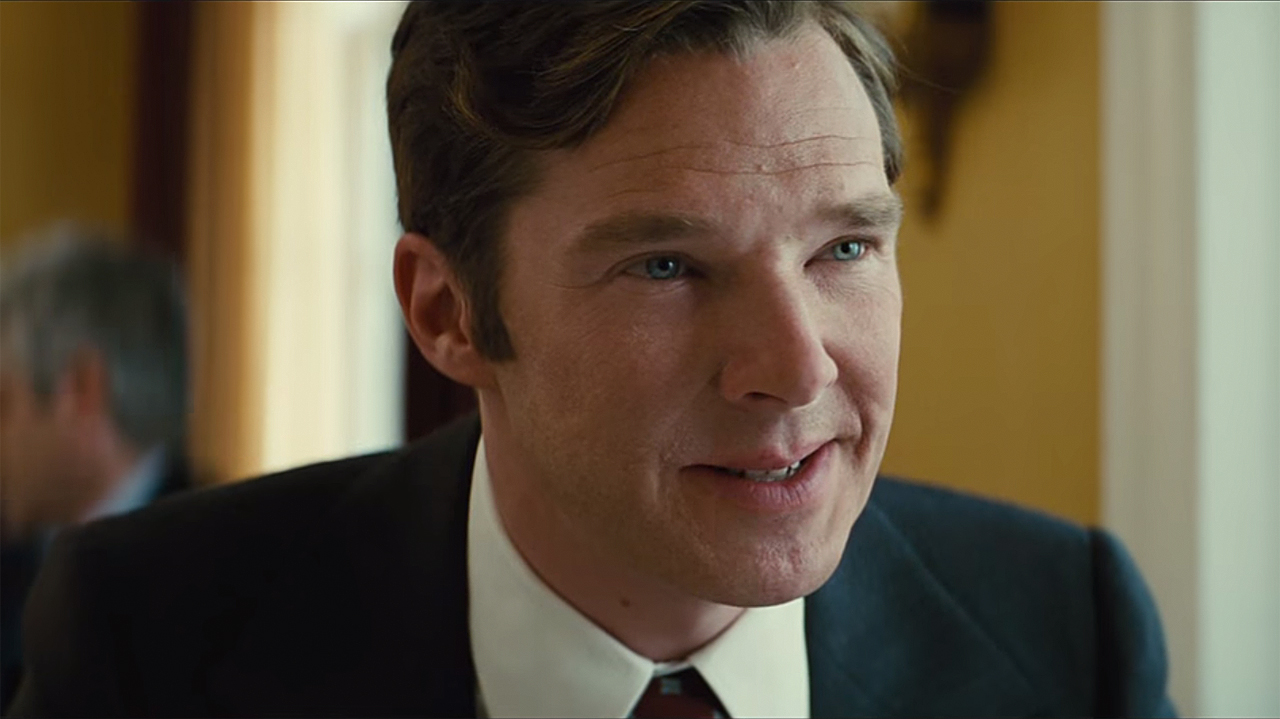 However, the real highlight of Black Mass is Johnny Depp's incredible performance as Jimmy. The psychopathic murderer and mobster quickly becomes the actor's best performance over Sweeney Todd, Ed Wood, and even Captain Jack Sparrow. Depp, sporting distracting blue eyes, electrifies the screen as a character equal part caring community leader and cold-blooded killer. Never caring for "Whitey," Jimmy begins his rise in the mid-70s after doing a stint in Alcatraz. He loves his son fiercely, helps the elderly, and plays cards with his mother. However, he kills people in broad daylight with children present and orders a hit anytime he gets mildly upset or suspicious. While the source material tells a captivating story with Cooper lending his camera, Depp's larger-than-life character takes Black Mass to cult status.

Like The Departed, Black Mass contains a Southie kingpin cooperating with the FBI to further his criminal enterprise. Director Scott Cooper includes foul language, brutal violence, psycho killers, cops chasing robbers, and an extended cast of talented performers not unlike the gangster epics helmed by Martin Scorsese: Departed, Casino, and GoodFellas. Johnny Depp rebounds from a career dry spell with his best performance to date as a chilling gangster straight out of a nightmare. Look for Depp's name to pop up in awards discussion come December for his latest starring role.


Keywords:
Black Mass review, Black Mass movie 2015, Johnny Depp, Scott Cooper, gangster, departed, martin scorsese, joel edgerton, benedict cumberbatch, dakota johnson