Big Eyes review
Artistic fraud of a bizarre degree
Academy Award-nominated filmmaker Tim Burton (Alice in Wonderland, Dark Shadows) somewhat stepped out of his trademark "pop-gothic" motif to create his first biographical motion picture in twenty years with Big Eyes. 1994 saw the release of Burton's first biopic, Ed Wood, starring Johnny Depp in the title role and written by the same screenwriters as Big Eyes, Scott Alexander and Larry Karaszewski. The main line of contrast being that Ed Wood had much more heart than Big Eyes. In his newest motion picture, Burton presents a straight-forward presentation of the relationship and legal battle between painter Margaret Keane (five-time Academy Award-nominee Amy Adams) and then-spouse Walter (two-time Oscar-winner Christoph Waltz). While this biopic doesn't span the entire life of a historical figure, it finds a comfortable niche conveying one or two chapters from Margaret Keane's amazing career as a secret artist of sorts.
Amy Adams (Man of Steel, American Hustle)brings a quiet dignity to her role as the real-life painter. Burton opens Big Eyes on Adams' Margaret as she and her young daughter drive away from what one surmises to be an unfit home for a family. Margaret moves to the artistic, creative hub of San Francisco, and begins life anew after getting work in a factory that allows her to paint in some degree. She eventually meets fellow painter Walter Keane, played by Waltz (Horrible Bosses 2, The Zero Theorem). A series of circumstances pushes Margaret down the aisle with Walter, and from there, the nightmare begins. After striking out with hocking his own work, Walter begins a mild success selling his wife's paintings. After a few patrons assume Walter is responsible for Margaret's art, he allows the lie to perpetuate and convinces his wife that they will make a higher profit if he takes all the credit for her paintings that feature children with disproportionately big eyes.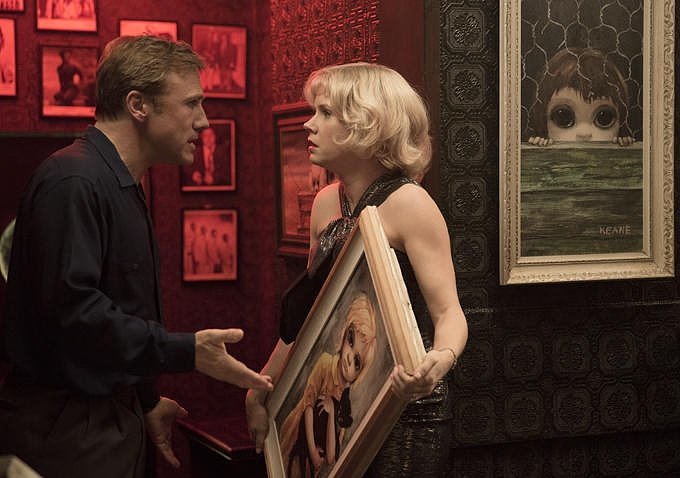 Margaret may seem like she lacks a sense of self after one understands the nature of her husband's arrangement, but Adams' performance reveals a side of the painter that connects with audiences. What choice does she have? Danny Huston's narration (and performance) as the journalist covering the story explains just how ridiculous gender norms could be fifty years ago, and the film subsequently demonstrates how Margaret is a creative casualty to a greedy, needy man. It isn't until an encounter with the Jehovah's Witnesses, of all people, that Margaret begins to wear visible regret. Adams currently has a Golden Globe nom for Best Leading Actress in a Musical or Comedy and expects her sixth Oscar nomination at the end of the month. Her performance as a twice-married mother and quirky painter in 1960s San Francisco is sure to attract audiences.
Christoph Waltz has shown over and over again his ease at playing protagonist. He won an Oscar for his Hollywood-crossover as a Nazi in Inglourious Basterds and has made a fine living off of breaking bad ever since: The Green Hornet, Water for Elephants, The Three Musketeers, Horrible Bosses 2, and now Big Eyes. In this version of a villain, Waltz taps into a bipolar state—giving the audience two Walters. The first Walter, the one who meets Margaret, has charm and wit oozing out of him. He wines and dines our protagonist, conveniently drops that he's successful in real estate, and sells paintings on the weekends. The second Walter, who reveals himself after Margaret proves profitable for him, connives and manipulates our protagonist. He practically turns her painting studio into a dungeon of sorts. Waltz kicks Walter's ego into overdrive in the final scenes as he desperately clings to his false story. Despite playing the villain often, one must admit Waltz brings a definite character and distinct performance to each role. Waltz, like co-star Adams, currently finds himself nominated for a Golden Globe regarding his performance in this film.




Although not a fantastical tale, Tim Burton manages to put a couple of his unique trademarks into his newest film. The opening titles/ credits remind one of a typical Burton experience. We've seen his elaborate credit sequences in Charlie and the Chocolate Factory, Sweeney Todd: The Demon Barber of Fleet Street, and Sleepy Hollow to name a few, and Big Eyes takes a similar route. Regular Burton collaborator Danny Elfman composes a tranquil score. Danny Huston's (Hitchcock, Wrath of the Titans) narration keeps on par with the narration heard in Burton's 2003 film, Big Fish. Perhaps the best technique implemented by the filmmaker in Big Eyes is the use of special effects to make everybody's eyes bigger during a crucial point in the film for Margaret. It should also go noted that this is the director's first film not to feature former partner Helena Bonham Carter since they began their relationship on the set of Planet of the Apes in 2000.
Despite superb performances from both leads and an interesting character study of a real-life story, Burton's Big Eyes ramps to an all-too-predictable conclusion in a cliché courtroom setting. Adams and Waltz keep proving that their names belong in awards chatter as long as they have a film in theaters and Burton proves that he can still put his unique mark on a biopic about a woman's struggle in the 1960s—not the typical material for a Burton film. While not a quirky, talented male like Edward Scissorhands, Edward Bloom, Bruce Wayne, or Ichabod Crane, Margaret Keane easily fits in the hall of Burton protagonists alongside Alice Kingsleigh and Lydia Deetz.


Keywords:
big eyes review, amy adams, tim burton, christoph waltz, golden globes 2015, margaret keane, paintings, big eyes