A Walk Among the Tombstones review
A walk among the grey area
While Scott Frank's (The Lookout, writer of The Wolverine and Minority Report) A Walk Among the Tombstones isn't your cinema professor's film noir, the picture takes advantage of more liberal censors than those of Hollywood's Golden Age to produce a gritty, period piece. Film legend Liam Neeson (Schindler's List, Star Wars Episode I: The Phantom Menace) leads the production as literary private eye Matt Scudder from author Lawrence Block's series of novels. In a weekend putting out yet another young adult novel adaptation poised to turn into a blockbuster franchise with The Maze Runner and a lighter, ensemble comedy in This is Where I Leave You, A Walk Among the Tombstones submits an unflinching perspective of characters often forgotten by society, hearkening World War II and post-WWII films noir.

A Walk Among the Tombstones isn't the typical film genre actor Neeson starred in over the last couple of years, opting for pastures that have little plot, heavy special effects, and pay his full asking price. The Oscar nominated actor hasn't turned in a performance so real and intense since his role in 2011's The Grey until now. He even delivers an even tougher phone conversation than the one he gave in Taken. In fact, Neeson takes the Scudder character and does more than what Oscar-winner Jeff Bridges did with the character in 1986's 8 Million Ways to Die. Not preoccupying himself with love interests like Bridges' Scudder, Neeson instead takes a young homeless boy under his wing while investigating the disappearance of a drug trafficker's wife and has depressing flashbacks few and far between. The veteran actor's interaction with each and every character he comes into contact with comes off so naturally as if the lead really spent time as a cop. Perhaps Neeson can just do badass in his sleep by this point?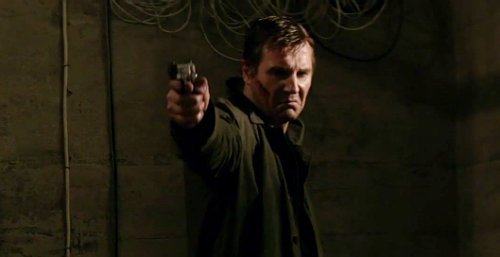 The supporting cast does equally brilliant around the lead. Dan Stevens ("Downton Abbey," The Guest) plays the grieving, revenge-fueled drug trafficker hiring Neeson to investigate his wife's disappearance. David Harbour (Quantum of Solace, End of Watch) plays the soulless, murderous dominant villain of the two antagonists. Boyd Holbrook plays Stevens' brother and a recovering addict in the film who meets Neeson at Alcoholics Anonymous. Unfortunately, women serve little role outside of victim in the film. It's a boys' club from start to finish.

Frank's nineties noir doesn't hit the viewer over the head with period references, but frequently (and cleverly) cites former NFL player Daunte Culpepper. However, it's the film noir aspects that give it a unique touch. Like the genre films of seventy years ago (Laura, The Maltese Falcon), A Walk Among the Tombstones incorporates a fair amount of art, particularly paintings, into the background. Holbrook's character paints, the young homeless kid has a talent for sketching, and a painting of the deceased wife hangs in the background for several shots. The inclusion of characters forgotten or unwanted by society because of bad habits, life choices, or mere bad luck and making them relatable and human gives the film a post-modern spin on film noir. Unfortunately, the film executes a plot device of a voiceover of the twelve steps of Alcoholics Anonymous over the climax. A creative idea to be sure, but rushing through twelve steps creates for pacing problems at film's end.




A Walk Among the Tombstones is a genre-referential narrative, mentioning Sam Spade and Philip Marlowe more than once. Even gritty, world-weary detectives and investigators can't solve a crime without hearing about film noir PIs. Liam Neeson comes out of his recent blockbuster shell to deliver his most memorable performance since The Grey. A gritty, in-depth R-rated murder mystery coming out this weekend when young adult fiction and family comedy melodrama reminds one that perhaps a quality narrative can emerge without a big budget.


Keywords:
A Walk Among the Tombstones, Liam Neeson, Matt Scudder, Scott Frank, Dan Stevens